Stay in-the-know with these five Boston local websites
If you're new to the Boston area, we'd like to wish you a warm welcome to the heart of New England!
We understand that it can be tough to get acquainted with new surroundings—especially if you're not from Massachusetts, let alone New England—so we've picked our top picks for local websites to help you learn more about your neighborhood. Whether you're looking for date night ideas or weekend activities for the entire family, these resources will serve you well:
WickedLocal
WickedLocal knows how to bring Boston-area residents the latest news on what's happening in communities across the state. Visit WickedLocal to find the site for your city or town in Massachusetts.
Boston Magazine
Boston Magazine has been delivering chic lifestyle news to the Boston area since the 1960s. Readers will find current design trends, home entertaining tips, restaurant openings, new real estate developments, and local celebrity interviews. The annual Best of Boston awards show off the best Beantown has to offer in Food & Restaurants, Shopping, Services, Neighborhood Bests and more.
MassLive
Want to know what's happening in Boston sports? Add MassLive to your shortlist for Boston media to follow. Bonus: MassLive also has two apps for News and the New England Patriots football team, available for both Apple and Android devices.
(P.S. If you're not sure where to watch games live downtown, we've put together a list of classic sports bars in Boston.)
BostonCentral
BostonCentral offers a comprehensive list of family-friendly happenings within the Boston area and beyond. You'll find helpful information such as "Boston Kids Activites," "Boston-Area Classes-Camps," "Boston Kids Shopping," and "Boston Parenting."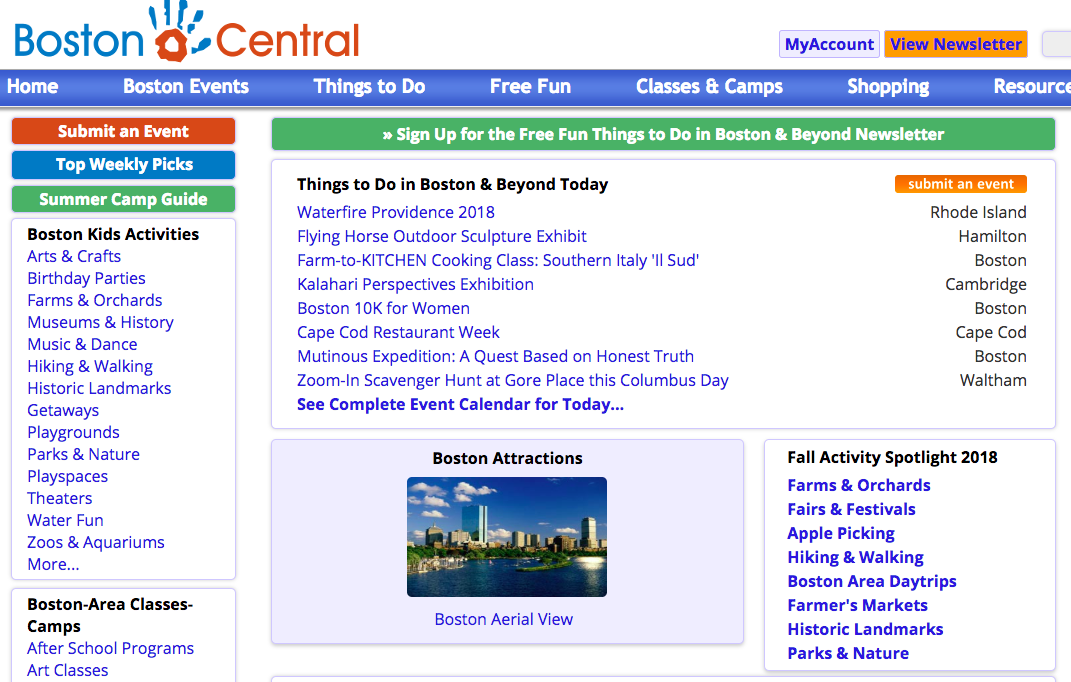 Patch
The Patch's corporate structure has lost some of the local, personalized stories that used to be shared more often, but it is a great resource for important weather updates, road closures, transit cancellations etc. If you're hosting a local community event, Patch users are able to submit press releases and, if approved, will be shared on the website. Search within Patch in Massachusetts to find your city or town.